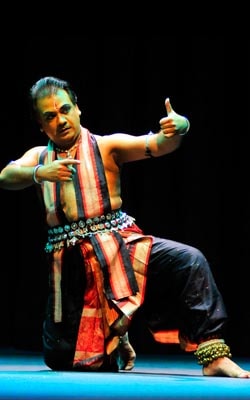 Drawing on the vast reservoir of creative talent abounding in his family, the young Ratikant demonstrated a precocity far beyond his youthful age. More in love with the stage than the schoolbook, Ratikant rapidly evolved into a masterful player of the Odissi 'Mardala' and a leading male dancer by the age of 16.
The Times of India has described him as the "young Kelucharan". He rendered enthusiastic and invaluable support to Guru Kelucharan Mohapatra in organizing, performing and assisting Guruji in the 1980's when the doyen of classical Odissi traveled abroad frequently to establish a global presence for the dance that represents, today, the acme of Odia cultural heritage and its dynamic evolution. The stamp of the Kelucharan Gharana is evident in Ratikant's soft and hypnotic style of playing the Mardala – the priceless inheritance from Guru Kelucharan Mohapatra himself.
As the Director of SRJAN [Guru Kelucharan Mohapatra Odissi Nrityabasa], he has created a world-class dance institute which attracts students from all over the globe for extended periods of Odissi dance training. Following in the tradition of his father,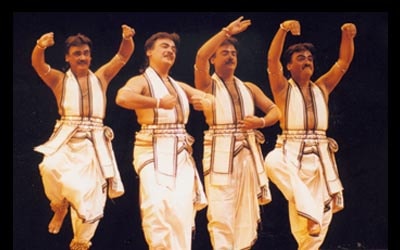 Ratikant organises yearly summer workshops for all levels-from beginners to senior students. These intensive sessions of training give them a unique opportunity to absorb the intricacies of the Guru Kelucharan Gharana in Odissi.
In his role as a choreographer, Ratikant has conceived more than 50 original works, each of which has receivedenthusiastic response for choreographic innovation and quality music. Ratikant's versatility and creative energy have found expression in celluloid as well, most recently in the choreography of Odissi dance sequences for the Indo–Chinese film "The Desire". In 2011 he choreographed traditional group Odissi dance bringing 555 dancers together in one platform for the Guinness Book of World Records.
Ratikant is widely travelled, and of late spends substantial time abroad teaching and performing in various countries. His work abroad has given him new insights into imparting the subtlety of the highly nuanced Odissi dance tradition to students and audiences the world over.
In all spheres of activity related to dance and music, Ratikant's enthusiasm and rigor for producing high quality work has propelled him into the highest echelons of the cultural hierarchy.