Laxmipriya Mohapatra
It was a marriage made in heaven, a marriage, between two artistes, which was rare & remarkable for its trust affection and mutual dependence. And in behaviour, as well as in conversation, Guru Kelucharan Mohapatra made it transparent that it was Laxmipriya who had, from early days, worked wonders in the relationship, and provided a strong & abiding foundation for the marriage. Herself a dancer & stage artiste of acknowledged stature, Laxmipriya was the inspiring presence in Kelucharan's life.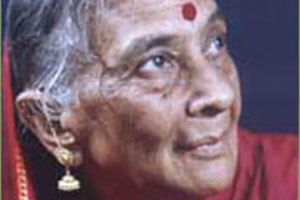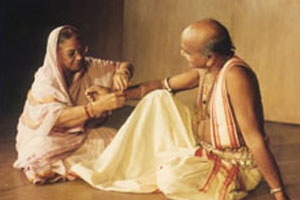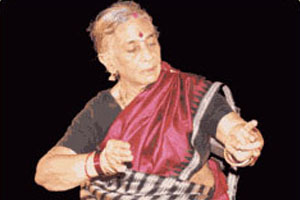 Their togetherness stemmed from the 1946 when she danced at Annapurna "B" theatre to his fluent & pleasing support on the Mardala & other drums. Invariably, whenever Laxmipriya performed on stage, Kelucharan accompanied her on percussion. Laxmipriya benefited from Guruji's ideas on dance, choreography and stagecraft, and she saw to it that, in his grim struggle to eke out a bare existence, every affordable comfort was made available to him.

In the early part of her life, Laxmipriya absorbed from her rural surroundings, an interest in the expressional Arts- dance, music, theatre.

Hailing from Khurda, Laxmipriya & mother opted to stay in Puri where the young Laxmipriya was introduced as a dancer in Annapurna "A" group by Bauribandhu Mahanty. She travelled with the theatre group, to remote village, towns and every tribal district of Orissa, her reminiscences about these tours abound in lively anecdotes about people, tribal dance and costumes, rural methods of conveying ideas, phraseology and many other points of interest. Her powers of observation were sharp, and here sense of humour abundant. Her teachers in acting and dance were, in those days, the venerable Ram Mania, Kashinath Sahu, Lakshmidhar Patra & Lingraj Nanda, who were all hard taskmasters. She blossomed into a fine stage artiste and from the time she made her debut as "Mohini", Laxmipriya mesmerised theatre lovers with her virtuosity and emotive portrayal in a number of dance dramas many of which ran for a 100 days. Her stellar roles made her a most popular stage artiste in the plays "Manager", "Aloka", "Bharasa", "Ta poi", "Mulia", "Kalapahada", "Jahara". and the "Dasavatara" sub play in "Sadhaba jhia" where she performed in tandem with Kelucharan Mohapatra.

Laxmipriya is credited as being the first even dancer to perform Odissi on stage!

Another feather in this remarkable lady's cap is that she acted in important roles in landmark films such as Surya Mukhi, Manika Jodi, Amada Bata and Mala Janha and her histrionic ability has been received with great enthusiasm by the Oriya audience of that era.

Laxmipriya's value to the then cultural ethos of Oriya Society is huge in terms of her courageous contribution. Her decision to continue as a dancer and stage artiste gave the fillip & courage to many middle class Oriya girls to dedicate themselves to Odissi dance. In this, she certainly took a brave & pioneering decision that encouraged a bevy of dancers to follow suit.

Even now in her advancing years and failing health, she continues to take keen interest in dance practice sessions held everyday at Srjan. A large number of accomplished Odissi artistes & former students of Guru Kelucharan Mohapatra address her as "Guruma", and their affection & respect for her is evident. Between looking after Guruji's household, bringing up the second generation-son Ratikant and family-and students from all over India & abroad who reside in the Gurukul (for the summer workshops), and reminiscing about her & Guruji's illustrious career, Laxmipriya lives an active life, deeply involved in all that happens around her.

After Guruji's demise she functions as the chief trustee of SRJAN.