History Of Srjan
The year 1992. National Centre for the Performing Arts, Bombay. Guru Kelucharan Mohapatra, his son Ratikant and a number of his senior disciples from Bombay were there to participate in a workshop being conducted, for NCPA, by Guruji himself. During a tea break, in a very casual way, some of us were thinking aloud about creating a repertory group carrying Guruji's name – a group of talented dancers who would bring viability to our combined dream of belonging to a training and performing commune, totally committed to Odissi dance and Kelucharan Mohapatra's distinctive style. Along with Guruji the whole lot of us were, in effect, looking for an identity which we could call our very own.

After a few more conversations it was decided to start building an institution without delay: Srjan came into being and was duly registered as a Trust in Bombay itself. The date 3rd September 1993. There had been, of course, lively discussions about the choice of a name. More deliberations between Ratikant Mohapatra and senior disciple Daksha Mashruwala were held until finally Daksha's excellent suggestion- the word Srjan – was chosen.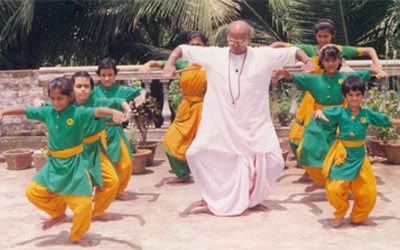 Srjan means creation and this name would encompass the many aspects of creativity that a dance institution would be concerned with. It was strongly felt that a reference to Guruji should be incorporated in the name itself, since it was widely accepted that Guruji was the father architect of the neo classical Odissi, and there was a need to give a distinct identity to his particular style. Hence the name became Srjan-Guru Kelucharan Mohapatra Odissi Nrityabasa (Nrityabasa means home/repository of dance). The dot under the r in Srjan was a stylized way of doing away with the u in the original Sanskrit word – Srujan. An eye catching logo which would symbolize the powerful principle of Shakti was conceived by Tapan Basu, the renowned engineer/designer and husband of Guruji's disciple Debi Basu.

Thus Srjan began its first infant steps. Crucial support was provided by Hemangi Shah and Sujata Kapadia. Unstinted help and advice came from Uma Meheta, Minal Patel, Jhelum Paranjape, Daksha Mashruwala, Debi Basu, Anandi Ramachandran among others. This core group from Bombay were disciples of Guruji and their enthusiasm gave much encouragement to Guruji; for him it was the first time ever that he built something around himself, his beloved Odissi.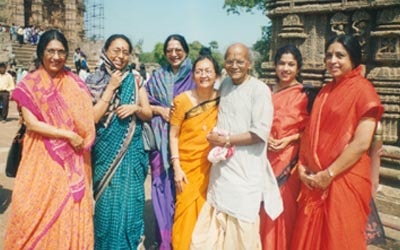 His own institution which he could shape with his own hands, whose destiny he could guide without needless interference or negative interventions. During this time, Guruji also received able support, in every possible way, from his son and disciple Ratikant Mohapatra. An acknowledged male dancer and Mardala player, Ratikant's innate organizing ability went a long way in quickly developing Srjan as efficient and capable teaching and performing institution. There was a flurry of activity in and around Srjan; Guruji was teaching in Bhubaneswar (the home of Srjan) and together with his son and other disciples, was laying the foundation for a beautiful blossoming of Odissi dance, music and repertory.

Srjan has never looked back since. Even after Guruji's sad demise in 2004, Srjan has been growing from strength to strength. The foundation that Guruji had painstakingly laid in building Srjan, continues to help us in meeting the challenges of the teaching and performance space, and allows us to dream of newer horizons.